When San Francisco based designers Jeffry Weisman and Andrew Fisher first came to San Miguel de Allende in 2011, they knew immediately they would make it their Mexican home. A 16th century Spanish colonial city with remarkably preserved baroque architecture and historic and cultural authenticity, it has been protected as a UNESCO World Heritage Site since 2008. This combination of urban beauty and longstanding tradition of craft were huge draws for the duo who are dedicated to creating a line of handcrafted furniture, lighting and accessories. They found their house on the second day and then embarked on a major remodel resulting in the paradisiacal retreat that Susanna and I were honored to visit. Please join us for a behind the scenes visit with Jeffry and Andrew at Casa Acanto, their extraordinary San Miguel home.
The house was originally built in the 18th century as a tannery because the cattle capital of Mexico was about an hour away in Leone and San Miguel had natural water springs, needed for the leather tanning process. Over the next two centuries, the building became a house, with various, and as Jeffry describes, mostly awkward, expansions and additions, but it was the location, size of the property and enormous jacaranda trees that sealed the deal for the couple.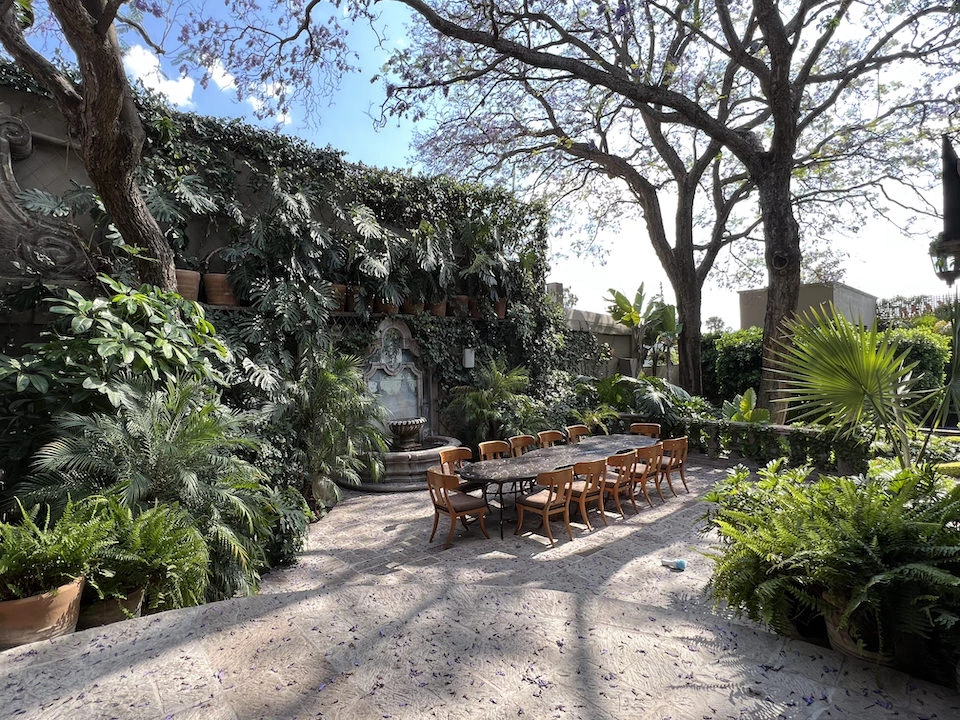 "Being California based, we were very unfamiliar with working with masonry structures. We had a steep learning curve to really understand what was possible and what made sense but the town's artisans really lived up their reputation." They totally reimagined the property, enlarging the main structure and adding a pool and two story pool house – Jeffry and Susanna on the balcony of her casita bedroom.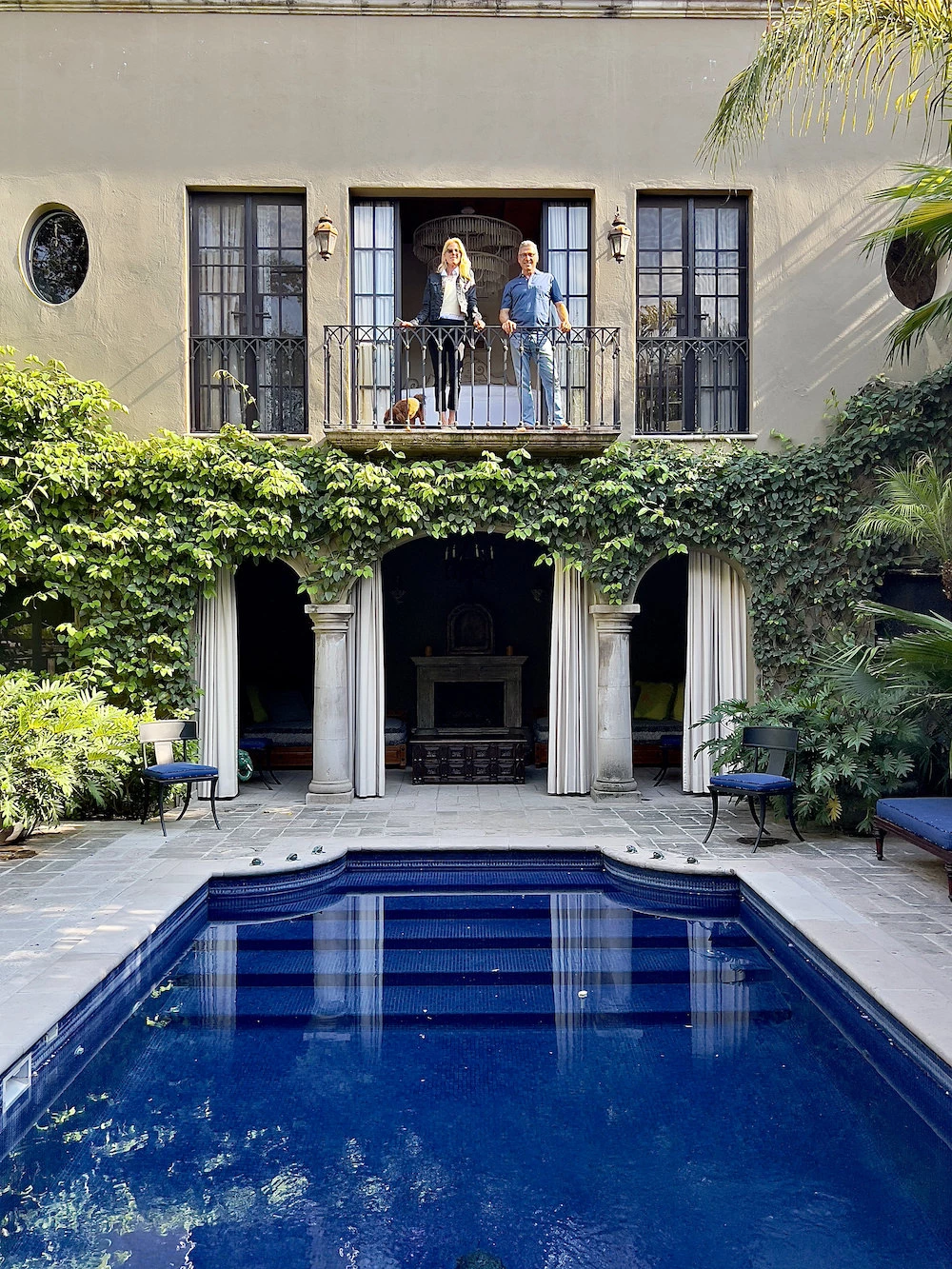 The pool house equally enchanting at night.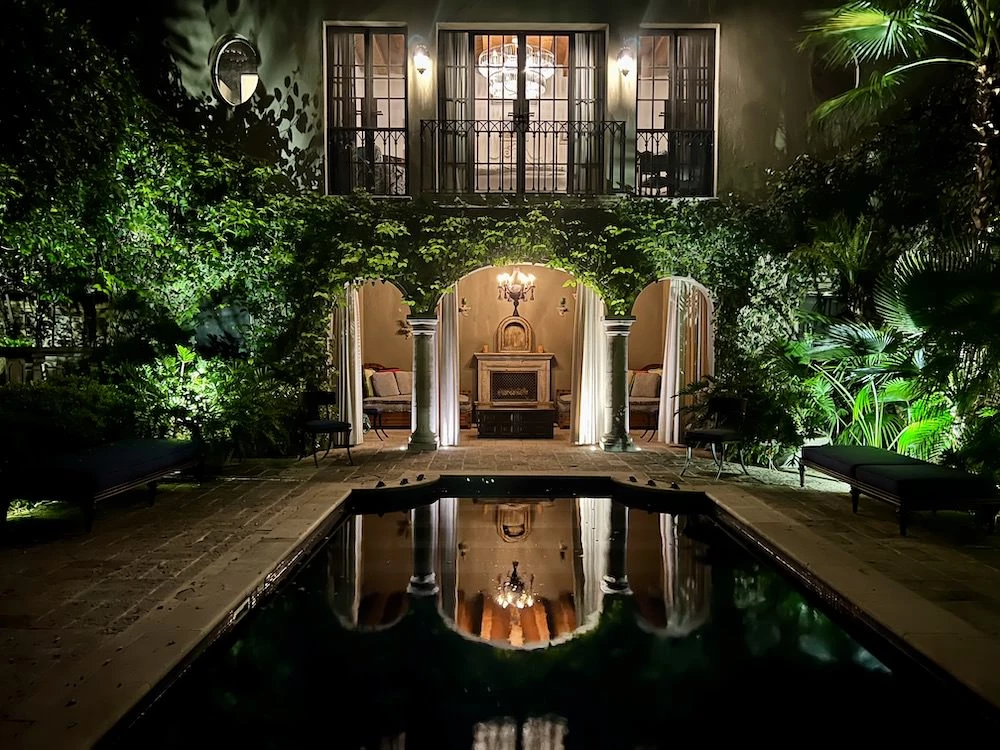 With no historic detailing, the house, essentially a blank slate for the designers, offered the opportunity to work with the local craftsman to create a new old house, employing the same techniques and materials that San Miguel artisans have used for centuries.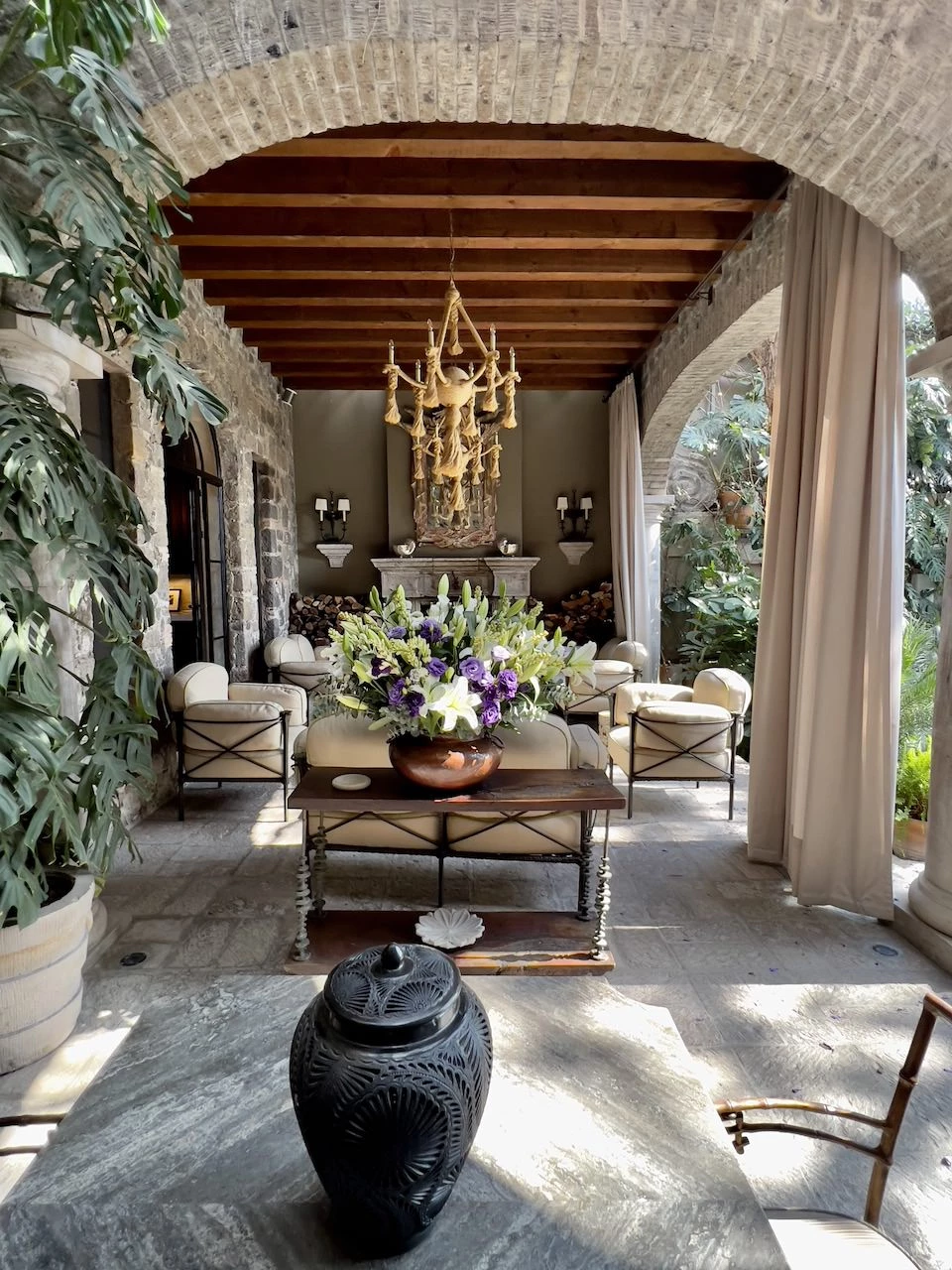 Handcrafted ceiling beams, terracotta tiles with added patina, stone mantels and magnificent metalwork, are just a few of the creative artisanal touches that make the house shine.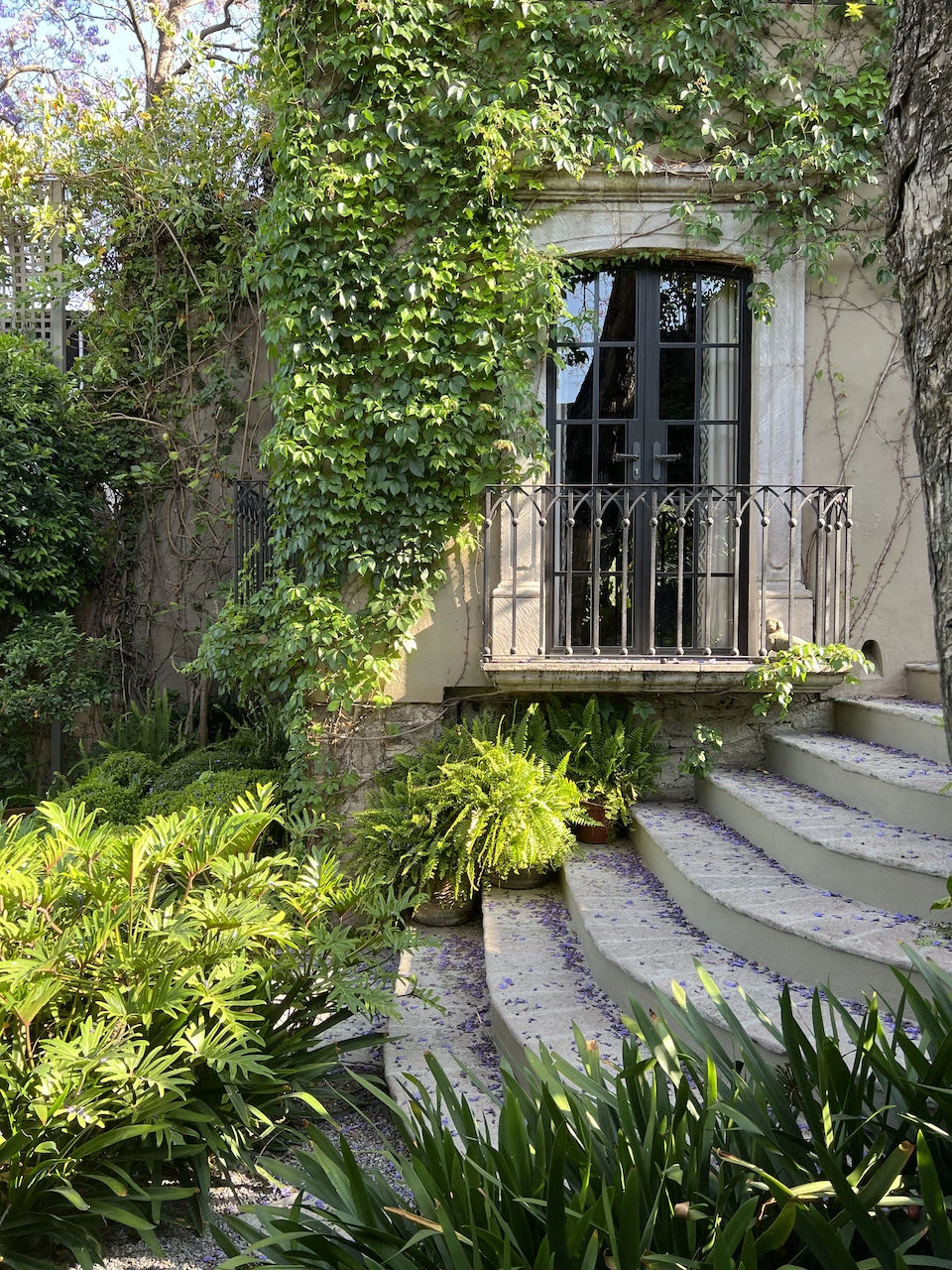 And within the house, a blue and white scheme ties the many rooms together, incorporating the designers' personal collections,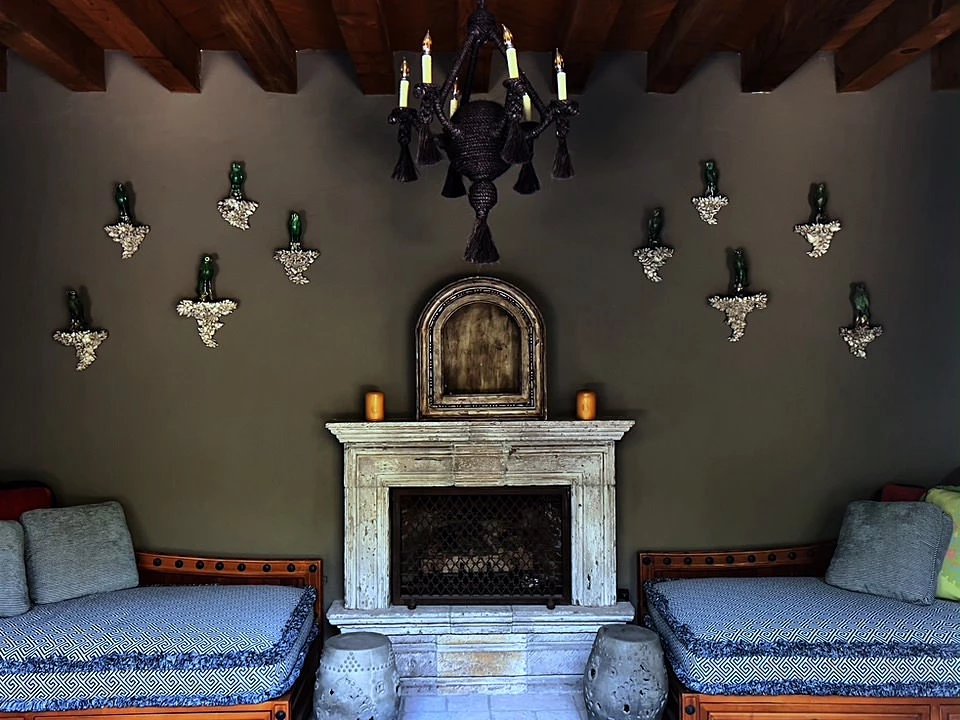 many examples of Andrew's artwork as well as their inventive Fisher Weisman lighting collection, as above in the casita outdoor living room.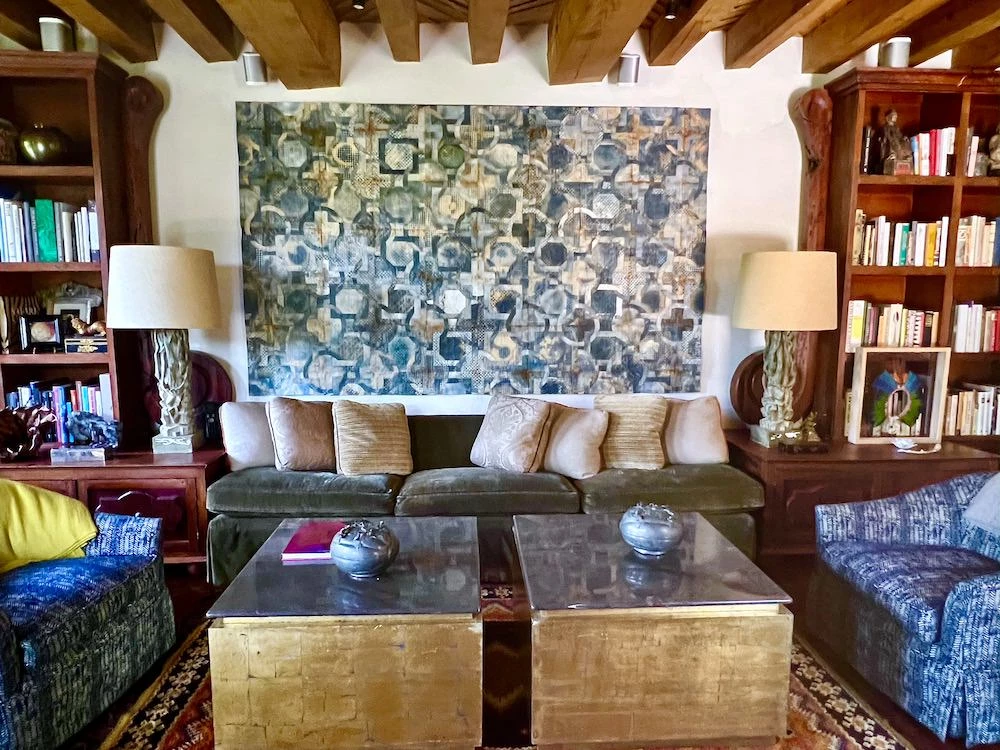 Above, in the living room, a large piece made of painted coffee filters to resemble a quilt. And below, a gold leaf artwork in the mirrored bar area.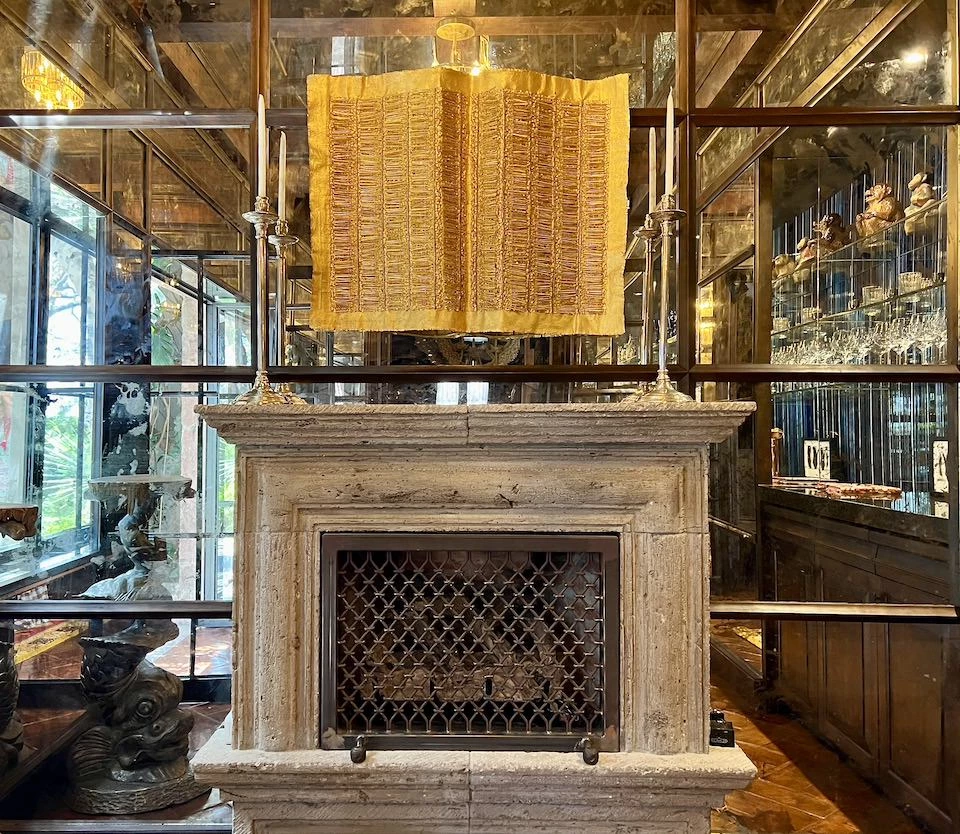 So thank you Jeffry and Andrew for the most magical few days. We were enchanted by San Miguel and your remarkable Mexican home!